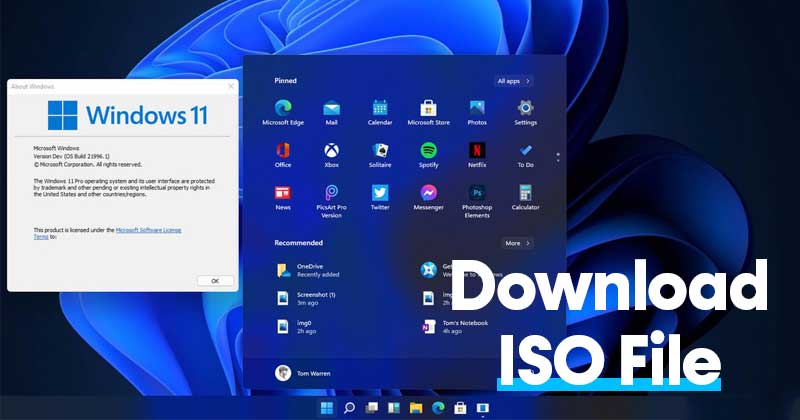 If you have been reading the news regularly, you might know that Microsoft is about to announce the next version of Windows called Windows 11 on June 24. But, yesterday, a near-final edition of Windows 11 was leaked on the Chinese forum website.
The leaked screenshots that emerged on China's Baidu website tell a lot about Microsoft's upcoming operating system. Soon after the screenshots, the Windows 11 ISO file was also dumped online, giving thousands of enthusiasts to try out the upcoming operating system.
The leaked ISO image of Windows 11 build number 21996 confirms the device's moniker and reveals several features and new user interface elements. Some inpatient enthusiasts have already installed the new operating system on their hardware.
Features of Windows 11 OS:
As mentioned above, the near-final edition of Windows 11 build number 21996 has been leaked on a Chinese forum website. Many users have already installed the new operating system on their computer, whereas some have tried it in a virtual environment.
Please note that the leaked Windows 11 ISO file reveals that the upcoming operating system is not very different from Windows 10 when it comes to design. There are only minor changes in the UI like rounded corners, colored icons, and new wallpapers.
Windows 11 actually looks much cleaner, and it's pretty much identical to Windows 10X. Another feature that the leaked ISO revealed was the centered taskbar, slide-out widgets for Weather, news, and news content from the web.
Another noticeable feature of Windows 11 is the new boot logo and Start menu logo, which have been changed. Also, the white theme of Windows 10 has been changed to a blueish shade in Windows 11.
Please note that the features had been extracted from the ISO file leaked on the Chinese website. So, one can't estimate the features of Windows 11 before trying the official stable build.
Windows 11 Official Release Date:
Right now, there's no set date for the release of Windows 11. However, many sources claim that Microsoft is about to announce Windows 11 in June 24 event. The event is scheduled for June 24 at 11 a.m. ET/8 a.m. PT.
However, please note that the software giant has stated that Windows 10 would be the last version of its operating system, but now there's a lot of hints that the company has changed its mind.
Download Windows 11 ISO file
Since the Windows 11 ISO file had already been leaked, users want to download it before its official release. Thanks to a Twitter user, @ADeltaXForce, for making the ISO files for Windows 11 available for all.
Below, we have shared the download links of the latest Windows 11 ISO file. You can download it on your PC from Mega Drive or Google Drive Link. Let's get to the Windows 11 ISO download.
How to Install Windows 11 ISO file?
Here's a step-by-step guide on downloading and installing Windows 11 on your pc.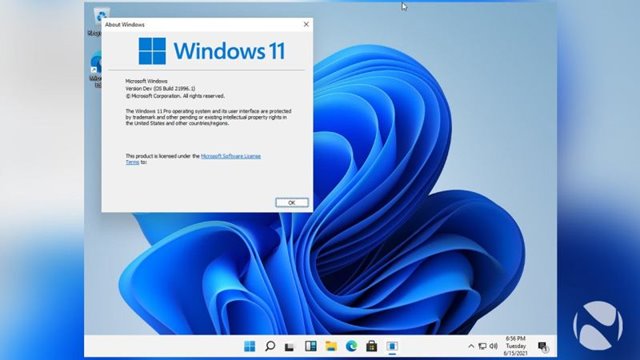 Although Windows 11 looks like a more refined version of Windows 10, it's still in its early development phase. Also, there's no surety on whether the leaked ISO files were real or not.
However, as we have mentioned early in the post, many users have already installed the Windows 11 ISO file on their system. Also, few have installed Windows 11 in the latest VM Virtualbox software.
Installing Windows 11 on Virtual Machine
It's recommended to install Windows 11 build 21996 in Virtualbox software first. For that, you need to download the latest VM VirtualBox software and, in the settings, select Windows 10 – 64bit version.
This trick would install Windows 11 on most computers in a virtual sandbox. Also, please keep in mind that you might have to face hardware or software issues due to driver incompatibility.
Therefore, install Windows 11 at your own risk, and don't expect any help as this is not an official stable build.
Install Windows 11 Using Rufus
Well, you can even use a USB thumb drive to install Windows 11 in any system. However, you would need at least 16GB of storage space to create bootable media.
You can use Rufus to create a Bootable USB for Windows 11. After installing Rufus, follow some of the simple steps given below:
First of all, launch Rufus and click on the 'Select' button. Next, choose the Windows 11 ISO file that you can download.
Next, follow the on-screen instructions to flash Windows 11 on the USB drive via Rufus.
Once done, restart your computer and press the boot key while your PC boots up.
Select the USB Pen Drive from the Boot option where you have flashed the Windows 11 build.
Once done, you will see the Windows 11 installer. The setup process is similar to how we install Windows 10.
After the installation, your PC will restart. After the restart Windows 11 OOBE setup screen will appear. You need to follow the on-screen instructions to complete the installation.
That's it! You are done. This is how you can install Windows 11 via Rufus.
So, this guide is all about download & install Windows 11 ISO files on pc. I hope this article helped you! Please share it with your friends also. If you have any doubts related to this, let us know in the comment box below.